It's an exciting time to be a dog-owner.
Today there are so many choices available for you to help them live an amazing life.
One of those big choices you will face at some point is whether to get a dog collar or harness.
With so much noise out there it can be difficult to decide which is best for you.
That's why Dr. Lazaris has put together this video for you to help you decide.
Where did the dog collar come from?
Dog collars were invented 5000 years ago in Ancient Egypt. 
Kings, Queens and Pharaohs used them to identify their dogs. They were often decorated with expensive jewels.
After this the Ancient Greeks invented the spiked dog collar. This gave dogs protection when hunting or in battle.
In the 1700s people started to keep dogs as pets. Families began to personalise collars using leather, silver and brass. 
In modern times collars are made from many different materials. 
They are used for lots of different purposes:
Hunting

Training

Showing

Assistance dogs

And of course accessorising your four legged family member!
The history of dog harnesses
The history of the dog harness goes back further than you might first think. 
Animal harnesses were brought to Europe from China over 2000 years ago. They were first used by ancient civilisations for working animals.
This evolved into the breast strap harness which helped animals to breathe better. This was actually the first type used on dog sleds during the Gold Rush in the late 1840s.
In the First World War, dogs had key roles as messenger dogs and medical supply carriers. This saw the development of the dog harness into a form that we use today.
By the 1990s harnesses began to get more recognition by animal rights activists. This is because they can provide more comfort to dogs than the traditional collar.
Today they are used for a variety of reasons besides everyday walks:
Outdoor activities such as hiking, climbing and mountain biking 

Rehabilitation of injured dogs

Swimming

Rescue

Displaying signs and labels

For service dogs, such as assistance, security or police dogs
Why harnesses take the lead
A collar and lead can work well for well trained dogs who don't pull.
But there are benefits to using a harness. 
Here's why…
Harnesses offer better control over your dog – important for busy streets and crowds.

The increased control provided by a harness is useful if you have a strong or very large dog. 

A harness also takes strain away from your arms and back.

Harnesses discourage your dog from pulling. When on a collar and lead, a dog that pulls is still moving forward. If your dog uses a harness, the dog's pulling isn't productive so he will learn not to do it.

Harnesses are safer than collars for dogs with respiratory problems. That's because they distribute weight over a greater surface area. They don't pull at the neck and trachea (windpipe).

Collars can cause skin irritation and fur loss.

A harness allows you to pull up your pet gently without causing pain or discomfort. This is good for older dogs who might have trouble standing.

Smaller dogs can easily become little escape artists. They can slip out of their collar before you blink! Harnesses can stop this happening.
So, what type of harness should I buy for my dog?
You think that a harness is the best option for your dog. 
But deciding can be difficult, as there are so many options available. 
Which should you choose?
This depends on both the type of dog and what you plan to use the harness for:
| Type of harness | What it's good for |
| --- | --- |
| Adjustable harness | A dog or puppy that is still growing. |
| Durable harness with secure fastenings | Large breeds who are very strong. |
| Front clip harness | Training a dog that pulls on the lead or a puppy that isn't used to walking on the lead. |
| Back clip harness | Dogs well trained on the lead. This harness offers good protection of the neck area – good for breeds such as pugs and bulldogs. |
| Car harness | Keeping your dog safe and calm during car journeys. |
Here are some of our favourite harnesses:
Julius K9 makes a variety of harnesses for different needs and dogs of every size.

They are one of the internet's most purchased dog harnesses.

They feature both front and back ring attachments.

They also feature a handle, which can be used to keep your dog close or pull him up if needed.

You can personalise this harness with your dog's name, or 'Do Not Pet'/'Assistance Dog' patches.
Ancol Padded Nylon Dog Harness 
This harness is available in a large variety of sizes and colours.

It features both back and front ring attachments.

It is a budget friendly option, but still boasts great reviews.

It can convert from a walking to car harness.

It also features reflective strips, which are great when walking your dog at night.
Ruffwear Front Range Dog Harness 
Ruffwear makes a variety of harnesses. 

Some are designed for outdoor sports and activities, such as climbing and hiking. 

The 'Front Range' harness is their everyday model.

This harness features foam padding for comfort. It has four points of adjustment for an optimal fit.

It features both front and back attachment points.

There are also features such as a pocket for ID tags and reflective strips.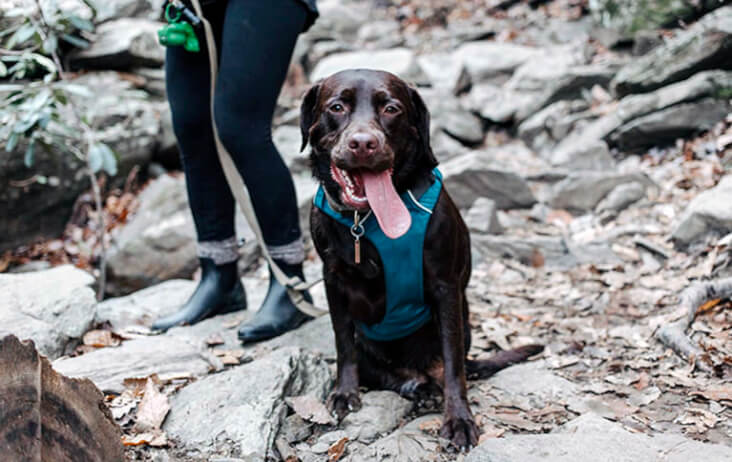 Time to choose…
Ultimately, the choice between a dog harness or collar is personal preference. 
Every dog is an individual with his own personality.
Your dog may be happiest with his collar and lead. Or you might prefer the comfort and safety of a harness.
The right choice will allow for the best experience with your canine companion.
The key here is to stay understanding and responsive to their needs.
References
https://www.hotdogcollars.com/history-of-dog-collars/
https://fidoseofreality.com/where-did-dog-collars-originate/
https://www.treehousepuppies.com/blog/history-of-dog-collars/
https://dogtime.com/how-to/dog-supplies/61013-right-type-dog-harness-dog
https://www.ukpets.com/blog/what-to-consider-in-choosing-dog-harness/
https://www.mountaindog.uk/collections/harnesses/products/ruffwear-front-range-harness-new-2020-version 
https://ruffwear.co.uk/products/front-range-everyday-dog-harness
https://julius-k9.com