The most wonderful time of the year is upon us.
Trees are being decorated, presents wrapped and turkeys trimmed up.
And your dog? Well, I guarantee, is just about as excited as you.
This year we want to help you take Christmas to the next level with them. That's why this post is packed full of tips, tricks and ideas for both you and your dog to have a truly cracking Christmas together.
We didn't want to overlook anything so there is A LOT in this post. Feel free to skim through it and zone in on the parts most relevant. We can assure you though that every section is packed with eye opening insights…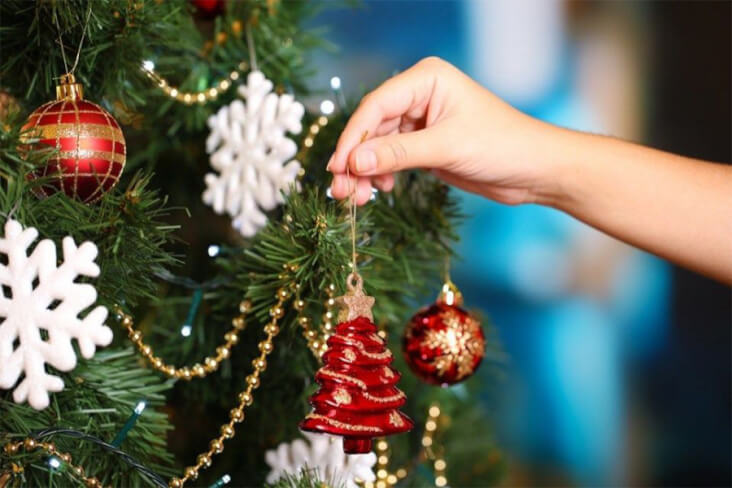 Important Info On Decorations With Your Dog
Choosing a Christmas tree, hanging the decorations and putting up lights…
Decorating your home is where Christmas all starts.
If you have a dog you will know that sometimes they like to get involved too – even when they're not supposed to.
Puppies might be especially prone to playing with things they aren't supposed to. That's because they won't have seen Christmas decorations before and don't know what they're all about. And they have lots of energy for playing and exploring.
But as much fun as Christmas decorations can be to play with, they can be hazardous.
Be careful of dogs or puppies playing with baubles or other small decorations. These can cause intestinal blockages if they're swallowed.
Fairy lights look pretty on your tree but you should keep them out of reach of your dog. As with all electrical wires, chewing through them can mean electrocution. This is especially important if you have young teething puppies. You can help avoid this temptation by providing them with plenty of chew toys instead.
Some Christmas plants are also toxic to dogs, including mistletoe. So keep them securely out of reach of your furry friend.
The last thing you want at Christmas is an emergency trip to the vet.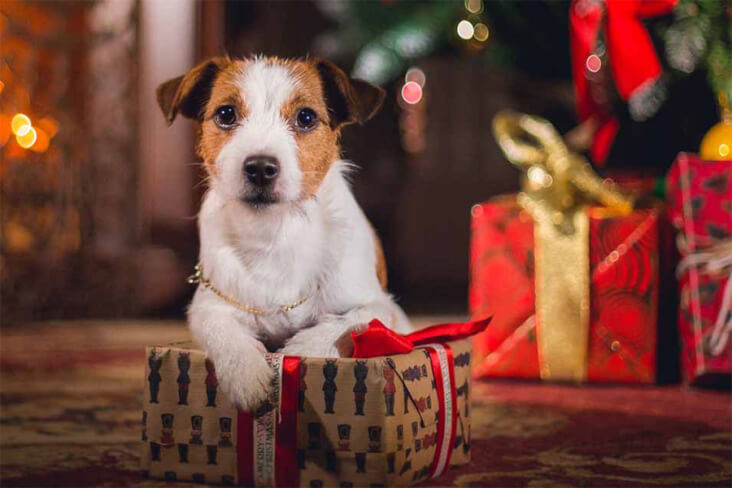 Gift Ideas For Your Dog
Once the decorations are up, the next activity is Christmas shopping…
Christmas presents for dogs have become so popular there are an amazing number of ideas out there for them
If you want them to have something under the tree this year, check out our handy gift guide below for 2020s top present picks for your dog…
Because pooches need pampering too…
Christmas Jumpers
To get your dog in the Christmas spirit, why not pick up a festive jumper? Much more comfortable for them than dress-up costumes, and just as fun.
And they often come in a variety of sizes and designs so dogs of all breeds can look their best for the festive season.
Some even offer matching jumpers for owners – so the whole family can be matching.
Kong
Perfect for keeping your pooch occupied and away from the human food during Christmas, a Kong could make a brilliant gift.
Simply fill with your dogs favourite food or treat and let them work out how to get it all out. To make the challenge even bigger, you can also freeze the filled Kong before giving to your dog.
And it's something that will be perfect for keeping them amused all year round.
Puzzle Feeders
Similar to a Kong, a puzzle feeder would be a great, handy gift for your dog at Christmas time.
For some distraction while the family unwraps presents, or while you eat your Christmas dinner. Simply fill with treats or biscuits and let them puzzle over how to eat it.
Another good all-year-round gift, puzzle feeders can be a great tool to help stimulate your dog and keep them entertained.
Just make sure you look for a good quality brand that does the job well.
Festive Plush Toys
For smaller dogs or those who are more gentle with their toys, a festive plush could make a fun Christmas present.
With an array of designs and fabrics, you will be spoiled for choice.
Tough Tug Toys
If your dog is a little more rough and tumble, a tough rope toy might be the perfect choice of gift.
Sturdy and designed to hold up to lots of wear and tear, even the strongest of dogs will have fun playing with these.
Dog Cupcakes And Treats
Everyone loves sweet treats at Christmas, and your dog can enjoy them too.
Whether you get your dog cupcakes from a reputable pet shop or decide to home bake some festive biscuits, there are lots of options.
We've even attached an easy-to-follow recipe further on in this post.
Just make sure to keep yummy smelling presents out of the way of your dog before the big day. You wouldn't want them to be helping themselves from under the tree…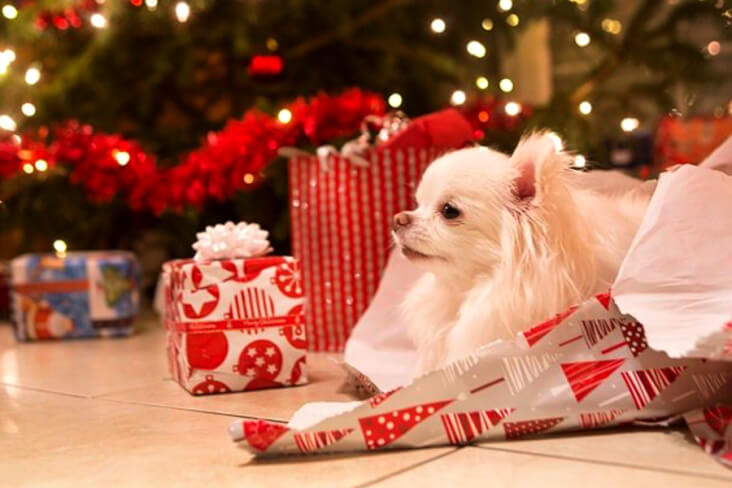 Keeping Your Dog Happy On Christmas Day
When Christmas Day rolls around, you probably won't be giving your dog as much attention as usual. It can be easy for them to feel left out and ignored.
With lots of family, friends and unfamiliar faces around, they also might get more anxious and stressed than usual.
Luckily, we've got some top tips to help the day run smoothly…
Before The Festivities Begin…
You should also aim to take your dog on a long walk before the festivities start.
This will tire them out so they don't have too much energy while your guests are visiting or while you're enjoying dinner.
A family walk with the dog can be a great way to spend Christmas morning before the guests arrive.
Keeping Them Busy During The Day
Keeping your dog occupied is one of the most important things to do.
It will help to keep them distracted from the hustle and bustle and stop them getting into places they aren't supposed to be – like your presents (or the turkey).
Puzzle feeders or Kongs are a great way to keep your dog entertained while you are entertaining guests or eating. And they're great stimulation for your dog at other times too. You can use our handy gift guide from earlier in this post if you're looking for some ideas.
Making A Safe Space
If everything gets a bit too much during the day, make sure your dog has a quiet space or a room to escape to.
If your dog is crate trained, this might be where they feel safest. Covering the crate with blankets will add an extra layer of comfort and you could also provide some of their favourite toys to keep them busy.
Or maybe there is a room in your house that no one will be using on Christmas day. Pop some of your dog's favourite blankets and toys in here and leave the door open for them. It will be useful if they need somewhere to escape to.
And if you want to find out more about what your dog is really trying to tell you this Christmas, check out our previous post all about understanding their communication signals here.
Keeping Them Calm
Christmas is another one of those times where dogs might feel anxious.
For extra help with stress over the festive season, you could try out pet pheromone diffusers – or even a calming supplement.
This is one of great uses for Relax+Restore. This is a brand new natural calming product for dogs with no nasties – perfect for promoting relaxation in nervous, fearful or restless dogs. And it works incredibly well during times of stress.
Relax+Restore is loaded with 7 of the most naturally calming super nutrients available to provide your dog with a relaxed energy. Plus an extra burst of vitamins designed to protect dogs against the negative effects of stress.
This makes it perfect for Christmas as it gives your dog the extra helping hand they often look to you for around this time.
Learn more about Relax+Restore and it's breakthrough formula by clicking here.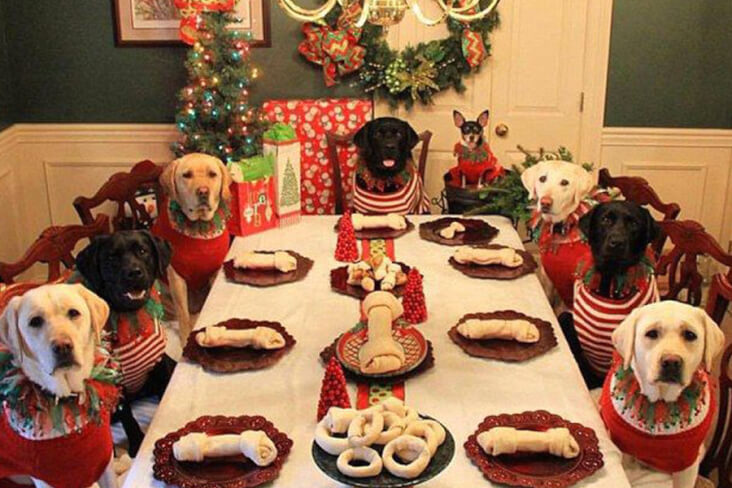 Enjoying Christmas Dinner With Your Dog
If you want to let your dog join in the fun on Christmas Day and have their own Christmas dinner, it's important to make sure it's healthy for them.
Table scraps like sausages, turkey skin or anything cooked in oil aren't good for your dog because they're very fatty. You should avoid feeding these. They can make your dog more prone to suffer with an upset stomach or pancreatitis.
Instead, you could fill your dog's bowl with cooked white meat (without skin) and boiled vegetables like carrots, brussels sprouts or parsnips.
They will find this just as tasty.
Over the Christmas period, it is also important to be careful of any toxic food that might be left around the home.
We probably don't need to tell you that chocolate is poisonous to dogs…
But so are any foods containing onions, garlic, chives, raisins or grapes.
That means mince pies and Christmas cake are definitely out of the question for feeding to your furry friend.
And even if you think they're out of reach, some dogs can surprise you. So make sure you don't leave any chocolates, mince pies or other toxic food on tables or kitchen sides. It would be easy for a dog to find a way up there and eat it all.
Instead of eating our treats at Christmas, now is a great time to make healthy pet treats that your dog can enjoy. You could even get the whole family involved.
We've provided a great recipe idea below…
Canine Christmas Turkey Treats
What you will need…
450g of minced Turkey.
1 Egg.
1 Teaspoon of Chopped Parsley.
A handful of carrots and peas.
An optional pinch of mozzarella cheese.
Here's what to do…
Heat your oven to 180°C.
Mix all the ingredients together in a bowl.
Shape the mixture into round balls and place them on a baking tray.
Cook for 12.5 minutes or until they turn brown.
Then let them cool and dish them out or seal in an airtight container in the fridge.
These treats are perfect for your dog during the festive season…
And much healthier for them than feeding table scraps.
You could even wrap some up in bags for your dog's friends or neighbors to share the festive cheer.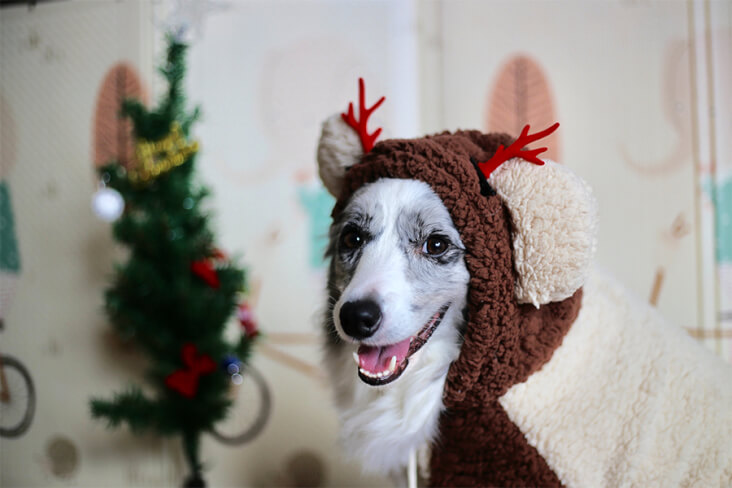 Our Final Pointers For A Cracking Christmas
Hopefully this post has given you plenty of ideas, tips and tricks to make sure you and your family have a truly cracking Christmas with your dog.
Whatever celebrations you have planned over the festive season, the most important thing is to keep your furry friend happy and healthy.
So that when you're enjoying yourself, they can be enjoying themselves too.
By tuning into their needs and keeping them out of the way of hazards…
And helping them to feel relaxed and calm despite any changes to their routine.
However you're spending your Christmas this year, we hope you and your furry friends have a great one!