Meet Cecily
Cecily is a unique 5 year old Manx cat, who has captured the hearts of thousands with her inspiring story.
This two-legged cat has found a home in The Cattery animal shelter, in Texas. In fact, the shelter rescued her alongside her two brothers, when they were all just two months old.
However, Cecily was quickly diagnosed with a unique condition, Manx Syndrome…
Overcoming Adversity
This incredible feline was born with a genetic disorder affecting her spine and internal organs. Because of this, Cecily has incontinence issues, needing diapers daily.
And sadly her back legs were paralysed.
But, the hardship wasn't over…
As Cecily started to chew on her hind legs, which could easily cause infections. For this reason, The Cattery's vets decided it would be best to amputate them.
Of course, Cecily did not let this stop her!
She quickly became used to walking with her front legs
Now, Cecily is able to run, use her exercise wheel and play with her cattery friends. Just like any other cat!
And despite Cecily's extra needs, such as diapers, frequent baths, vet visits and testing, she found her true family in The Cattery. Where they are all happy to make sure she is healthy and thriving.
Fashionista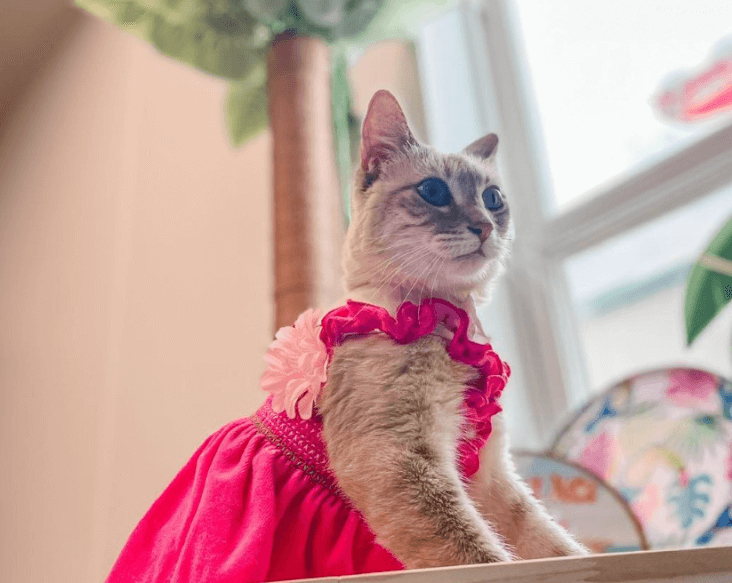 The shelter's staff not only cater to Cecily's needs, but also to her unique personality.
She loves being the centre of attention and she especially enjoys dressing up!
In fact, one of the volunteers creates special outfits for her. These keep her diaper securely and safely on, a perfect fit for Cecily's unique body and incredible personality.
Now, Cecily and The Cattery staff have a weekly photoshoot. Cecily even has her own Instagram and Facebook accounts, with over 19,000 followers.
Making her a true fashion "cat-fluencer!"
Of course, Cecily absolutely loves dressing up in her different costumes. However it's worth noting not all pets do. So if you too want to dress up your feline friend, only do so if they love it and don't show any signs of distress.
Onwards & Upwards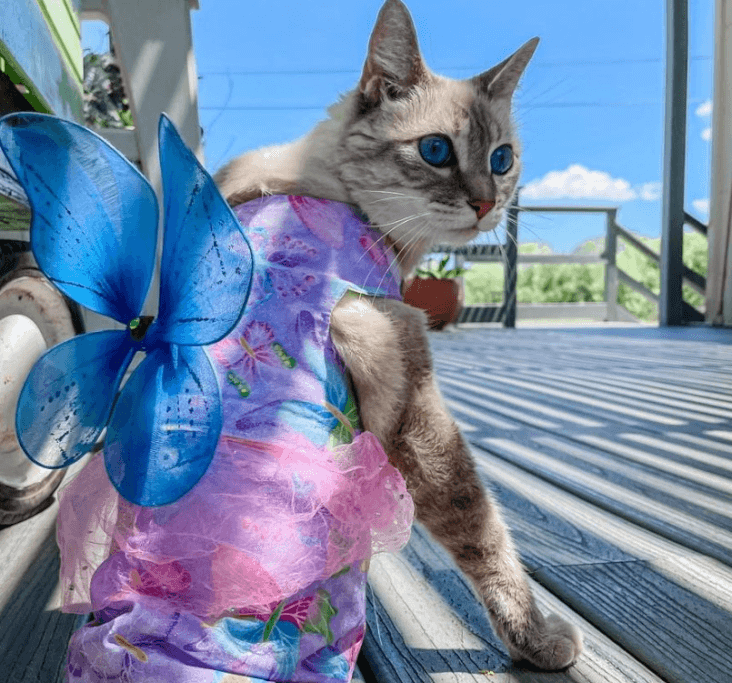 Cecily's story is truly inspiring…
Raising awareness for thousands of other disabled cats, especially those with Manx Syndrome. She's a true example of the resilience and determination of animals, no matter their circumstances.
It's truly incredible what cats can overcome…
And as the shelter's staff say, Cecily's perseverance and positivity:
"Inspire us all to be better and do better every day."
Sources:
https://www.cbsnews.com/miami/news/cecily-the-cat-has-a-lifelong-disability-it-hasnt-stopped-her-from-spreading-positivity-online-through-fashionable-outfits/
https://www.thecatterycc.org/blog/princess-cecilys-story